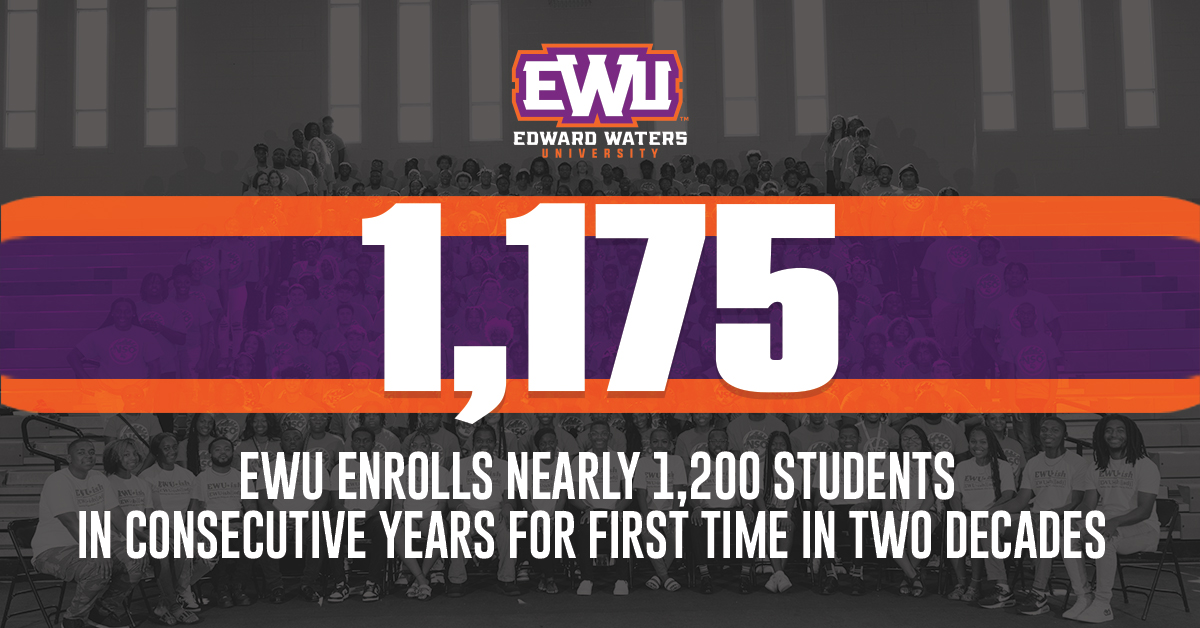 JACKSONVILLE, FL – For the third consecutive year overall enrollment at Edward Waters University (EWU)—Florida's first independent institution of higher learning, and first historically black college or university (HBCU)—has exceeded the 1,100 student mark, having reached its second highest overall enrollment in nearly two decades this fall. Accordingly, at the close of its fall registration period on Friday, September 1, 2023, EWU's phenomenal multi-year, overall double-digit percentage enrollment increase culminated in a final fall 2023 enrollment count of 1,175 students—including a 4.27% increase in total new students (537) over last fall (515), and a whopping 26.07% increase in overall student enrollment since 2019 (932). Edward Waters continues to demonstrate its ability to succeed in a highly competitive and dynamically shifting higher education landscape by enrolling more students over the past four years than in any four-year period since 2005, and the second most students in a single fall semester since 2004. Additionally, Edward Waters' fall 2023 enrollment was bolstered by a spring 2023 to fall 2023 overall student retention rate of 81.79% representing a 2.49% increase over last year.
Relatedly, the university simultaneously welcomed its second largest class of new students on record as a total of 537 new students enrolled at the state of Florida's first HBCU.
"In many circles Edward Waters is often mentioned largely for its historical significance, which is something for which we are unabashedly proud" said EWU President and CEO, Dr. A. Zachary Faison, Jr.
"We are equally proud, however, of our recent phenomenal enrollment growth that is representative of our contemporaneous relevance as a thriving institution that is rapidly becoming a 'destination institution' of choice amongst college-going students and their parents as a result of our high quality and expanding academic programs, dedicated university faculty and staff, and commitment towards providing a stellar student experience that is primarily focused upon ensuring our students' personal, academic, and professional success," President Faison added.
Correspondingly, the university received over 10,000 applications for the current 2023-2024 academic year, which represented a nearly 10% increase in total applications received by the university over fall 2022, indicating a continuously growing interest from parents and students seeking to make EWU their higher educational home. This year's enrollment outcome is also indicative of substantial progress realized towards enhancing the retention and persistence of EWU students as the latest overall enrollment effort indicates that the institution was successful in retaining and supporting the persistence of over 80 percent (81.79%) of its students who were eligible to return from spring 2023 to fall 2023.
"The extraordinarily positive enrollment results being experienced at EWU can be directly attributed to the commitment, relentless efforts, and focused collaborative work of the dedicated members of our cross-institutional Strategic Enrollment and Retention Team (S.E.R.T)," President Faison said.
"In particular, our entire S.E.R.T. team led by Dr. Jennifer Price, Vice President for Enrollment Management and Mr. Kendrick Dunklin, our Associate Vice President for Enrollment Management & Dean of Admissions worked collaboratively with the Office(s) of Admissions, Financial Aid, Student Accounts, the Division of Student Success and Engagement, and Registrar in diligent partnership with our University College, Athletics, and the Division of Academic Affairs to achieve this phenomenal overall student enrollment mark," said President Faison.
In addition, the overall competitive profile for this year's newest collection of Tiger scholars is equally notable, as the
average grade point average amongst the entering EWU Class of 2027 is nearly ​3.0 (2.92). Moreover, this fall the university is also excited to welcome its fifth consecutive cohort of high achieving Tiger scholars who are members of the "Epsilon Cohort" of the EWU Honors College. This fifth iteration of 20 dynamically talented and academically gifted Tiger scholars earned an average 4.06 high school grade point average and includes a class valedictorian, as well as a student who earned a 4.83 grade point average.
Even more, amongst the 537 new students matriculating at EWU this fall, nearly 50 of them are enrolled in the institution's recently launched fully online new graduate degree programs, which include the Masters of Business Administration (MBA) and Masters of Education Policy and Advocacy (MEPA). The university also recently announced the launch of an additional five new academic degree programs for the Fall 2023 semester including bachelor degrees in Social Work, Computer and Information Science, and Public Health, as well two more graduate degree programs, including the Master of Public Administration (MPA) and Master of Cybersecurity (MS-Cybersecurity).
Lastly, as of September 1, 2023 EWU will officially continue competition as a NCAA Division II institution pursuant to having successfully been admitted by the NCAA to the final year of its three-year NCAA transition, thereby remaining eligible to compete for conference regular season and conference post-season championships as members of the historic Southern Intercollegiate Athletic Conference (SIAC), which has incorporated 14 of the school's 17 athletic teams.
About Edward Waters University
Edward Waters University (EWU), accredited by the Southern Association of Colleges and Schools Commission on Colleges (SACSCOC) and member of the United Negro College Fund (UNCF), is a private, historically black, urban institution of higher education, which offers a liberal arts education with a strong emphasis on the Christian principles of high moral and spiritual values. EWU was established in 1866 and is an African Methodist Episcopal Church-related institution of learning. It is the first private and independent institution of higher education in the State of Florida.