Beginning Fall 2020 All First-Year Edward Waters College Students Will Receive
New Personal Chromebook Laptop Computers with Microsoft 365 Software Suite
Jacksonville, FL – April 27, 2020 – Earlier this month Edward Waters College (EWC) and Follett Higher Education Group (Follett) finalized an innovative and progressive new partnership aimed at reducing overall student costs while also significantly enhancing student access to relevant technology necessary to promote optimum student academic performance and support overall student success. The new collaboration called the EWC/Follet ACCESS Program will not only continue providing students access to course materials via an e-textbook platform but will now provide those materials at a reduced cost thereby further enhancing the College's already existing extraordinarily high value as the State of Florida's most affordable private Historically Black College or University (HBCU).
Per the 2015 U.S. Census and an attendant national report conducted by the U.S. Department of Commerce, some 43% of African-American households are without a desktop or laptop computer. Accordingly, this lack of technological access translated to a stark digital divide and competitive disadvantage amongst EWC students who are overwhelmingly African-American, (89%) low-income, (87% pell-grant eligible) and in many cases without financial resources to purchase much needed technology like personal computers and/or electronic tablets.
As a response, this dynamic new partnership seeks to bridge that existing technological access chasm for EWC students as beginning this coming Fall every new first-time-in-college full-time Edward Waters College student will be issued their own brand new personal Chromebook computer equipped with the complete Microsoft 365 software suite while being fully e-book download capable.
"We are beyond ecstatic to have the support and commitment of Follett Higher Education Group President Roe J. McFarlane and the entire Follett team as a collaborative partner in our institutions continuing effort to provide an affordable, relevant, and high quality educational experience for the students we are blessed to serve" said Edward Waters College President and CEO, Dr. A. Zachary Faison Jr.
"As an institution of Emerging Eminence our academic community remains focused upon creating new opportunities for advancing our affordability quotient while simultaneously expanding services and modalities of support that have a high propensity towards strengthening our students' academic experience and undergirding their overall success especially as we as an institution move more robustly into the online degree and online instructional delivery space" Faison said.
Follett has been a trusted partner to college campuses for more than 140 years and serves over half of the students in the United States. The Westchester, IL based company works with 80,000 schools as a leading resource provider of education technology, services, print and digital content and course materials. As the nation's largest higher education campus retailer and a hub for school spirit and community Follett operates nearly 1,200 local campus stores and over 1,600 virtual stores across the continent.
"We are delighted to enter this new partnership with President Faison and Edward Waters College in support of its outstanding students and distinguished academic community" said Follett Higher Education Group President, Mr. Roe J. McFarlane.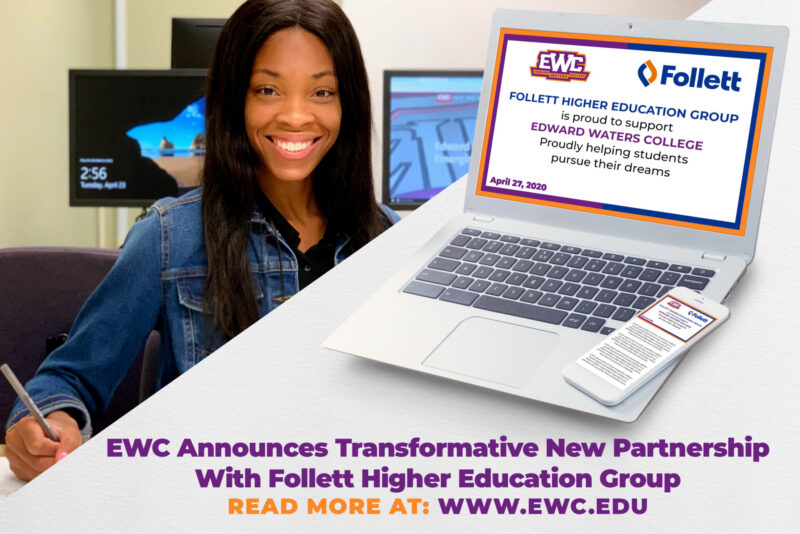 "Follett has a longstanding reputation and tradition of providing our clients and the students we share in serving with quality products, superlative service, and cutting edge technologies and programs that act as a gateway to knowledge—harnessing our insights to help improve student outcomes and shape the future of education as we know it. Our new partnership with Edward Waters is representative of our commitment to President Faison's vision and the laudable mission of this historic institution as a leading HBCU" McFarlane said.
The new multi-year partnership also includes annual scholarship support for EWC students as well as a financial commitment towards capital and programmatic enhancements of the on-campus retail store experience for EWC faculty, staff, students, and Tiger alumni.
"We had the ability to go to the bookstore and get e-books for our classes before but a lot of students couldn't really access the materials because they didn't have and/or couldn't afford to buy computers or tablets so they would try to read and study from their phones which was really kind of difficult" said EWC Student Government Association President, Mr. Joshua Young.
"This initiative solves that problem and I think it will also help students perform a whole lot better academically because with their own computers they'll be more easily able to get access to their course e-textbooks which are less expensive plus they can do research and write papers much easier. It's a really good move for the students and I appreciate President Faison and his team for making this happen for our future Tiger students." Young said.
The new EWC/Follett ACCESS program is again set to launch beginning this upcoming Fall 2020 semester as every new first-time-in-college full-time EWC student will be issued a new laptop computer along with the preloaded Microsoft 365 software suite. For parents, students, faculty and/or alumni looking to celebrate their EWC pride, please visit our website to purchase all-new EWC paraphernalia, supplies, and materials at https://www.bkstr.com/edwardwatersstore/home
###
About Edward Waters College
Edward Waters College (EWC), accredited by the Southern Association of Colleges and Schools Commission on Colleges (SACSCOC) and member of the United Negro College Fund (UNCF), is a private, historically black, urban college which offers a liberal arts education with a strong emphasis on the Christian principles of high moral and spiritual values. EWC was established in 1866 and is an African Methodist Episcopal Church-related institution of learning. It is the first private institution of higher education in the State of Florida.