New Facility Will Serve As Home Of EWC Football And Women's Soccer Teams
Jacksonville, Florida, April 24, 2020 – Edward Waters College (EWC) is proud to unveil the official rendering of the new Community Field and Athletic Stadium, which will serve as home to the Tiger football team, as well as the College's new women's soccer program. The $4.3 million dollar facility boasts a total potential seating capacity of 5,000 and is now under construction. Designed by Jacksonville based firm PBV Architecture, the facility features a european-style arrangement of standing room areas around an open-air artificial turf stadium along with steeply-raked sweeping seating aimed at bringing spectators into a closer viewing proximity to the field and players. 
An additional feature of significance of this new facility is a walking track that will encompass the perimeter of the stadium. Edward Waters College sits in the New Town Community, a community that historically has faced challenges related to obesity, high blood pressure, and other health issues. EWC students and and the members of the community will be able to utilize the walking track and the feature will serve as a central nerve center for promoting overall health and wellness within the New Town Community.
"The new state-of-the-art athletic facility is intended to boost recruiting and assist in the establishment of a new more marketplace relevant institutional brand to increase the College's overall competitive profile (i.e., both academic and non-academic) and visibility to foundationally support institutional growth," said EWC President and Chief Executive Officer, Dr. A. Zachary Faison, Jr.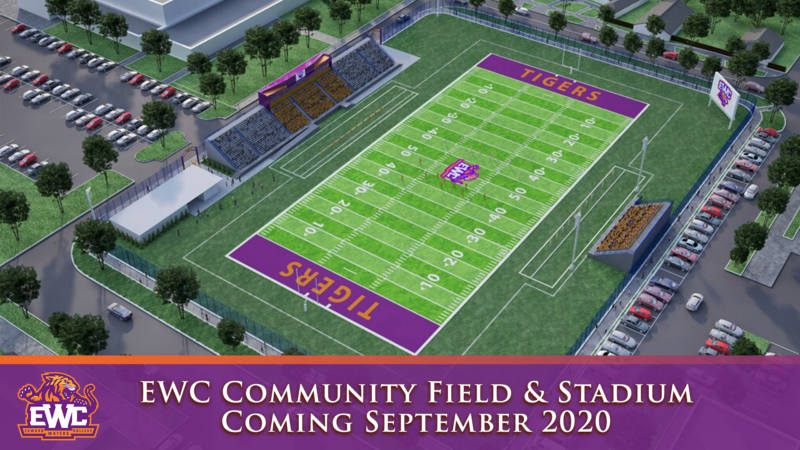 "An on-campus stadium is going to create a different level of engagement and excitement for our dynamic EWC students" stated EWC Director of Intercollegiate Athletics, Mr. Paul Bryant. "This project will also allow us to engage with the New Town community in new ways".
The stadium will consist of a grandstand on the home side of the field and will have a seating capacity of 2,500. The grandstand will have three tiers, an elevator, restrooms, and the south end zone will feature the scoreboard and an open plaza. The first tier will be the home coach's box, an area for working press and staff, and the President's Box to be used by the President, honored guests, and corporate donors. The second tier will be a covered canopy for visiting coaches and filming areas and the third tier will be the Concession areas and restrooms.
Equally important, the stadium will have the latest version of artificial turf from ActGlobal, a worldwide leader in athletics playing surfaces and installed by Burke Sports Construction Group out of Doral, Florida. Most important, the Community Field and Athletic Stadium artificial turf will also contain brock padding and a cork granulate, which will allow for a cooler surface.
"Adding this type of infield will permit for year-round usage for our teams and the community," said EWC AD, Mr. Paul Bryant. 
Accordingly, Tiger fans will be greeted by a life-sized bronze Tiger statue upon entrance into the Community Field and Athletic Stadium. The Tiger will be designed by classically-trained Master Sculptor, Mr. Brian Hanlon of Hanlon Sculpture Studio, a full-service art studio in New Jersey. He is also the official Master Sculptor for the Naismith Memorial Basketball Hall of Fame and has been commissioned by private foundations, alumni associations, universities, and the National Football League.
AD Bryant further added "Now with EWC being the only football-playing college in the city, our new stadium will encourage all of Northeast Florida to witness exciting gridiron action in their backyard and embrace our team's motto of "One Team, One City."
"This project is also an example of this administration's commitment towards making our venerable institution a best-in-class institution of superlative excellence, as we extend our edge as a higher educational model institution of Emerging Eminence" not only, in the classroom but also, on the athletic field," said President Faison.
The EWC Community Field Stadium & Athletic Stadium is tentatively scheduled for completion on or before September 2020, just in time for EWC'S first home game against the Dragons of Lane College on September 19th.
###
About Edward Waters College
Edward Waters College (EWC), accredited by the Southern Association of Colleges and Schools Commission on Colleges (SACSCOC) and member of the United Negro College Fund (UNCF), is a private, historically black, urban college which offers a liberal arts education with a strong emphasis on the Christian principles of high moral and spiritual values. EWC was established in 1866 and is an African Methodist Episcopal Church-related institution of learning. It is the first private institution of higher education in the State of Florida.