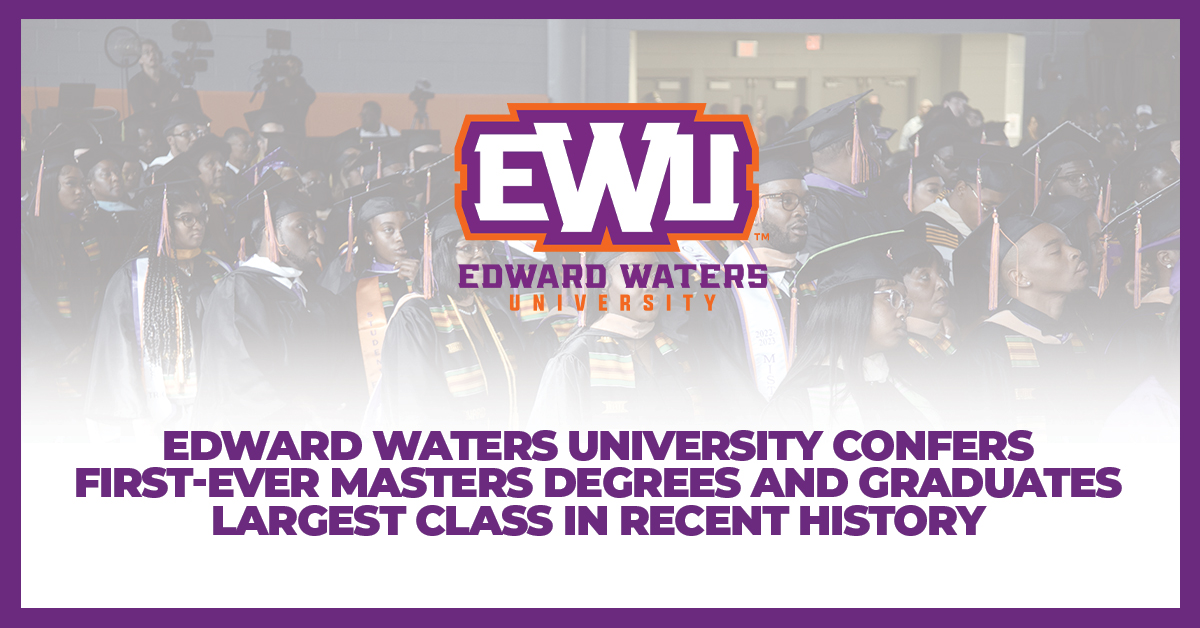 Edward Waters University (EWU), Florida's first private institution of higher learning and first Historically Black College or University held its commencement exercise Saturday, May 6th on campus in the Adams-Jenkins Sports and Music Complex. The graduation ceremony marked a new era at EWU as the Class of 2023 included 23 graduates from the University's first-ever Masters in Business Administration program.
In addition to the 23 Masters Degrees conferred 110 Bachelor Degrees were awarded in the areas of Business Administration, Communications, Mass Communications, Music Concentration, Biology, Criminal Justice, and Psychology, totaling 133 graduates, one of the largest graduating classes of EWU to date.
The commencement address was delivered by Dr. Michael L. Lomax, President and Chief Executive Officer of UNCF, the nation's largest private provider of scholarships and other educational support to African American students. Throughout Dr. Lomax's address, he reminded the graduates that nothing comes easy and that their hard work, dedication, and resilience is reflected in this moment of celebration and that their knowledge base, enthusiasm, and eagerness is needed in today's workforce.
The graduation ceremony also recognized the class of 2023's Valedictorian, Brianna Pendergrass, a Biology major, and Salutatorian, Onecia Adams, also a Biology major. This fall, Ms. Pendergrass will attend Brown University as a Ph.D. candidate in the Molecular and Cell Biology program and Ms. Adams plans to continue her studies as a Research Assistant at the University of North Florida with the Whitney Laboratory for Marine Bioscience program.
"You didn't graduate today to go backwards. But the degree you now hold should indeed propel you to go forward", said EWU President and CEO, A. Zachary Faison, Jr. to the graduates. "We all share in your momentous achievement this morning, your journey to fulfill your ultimate destiny has only just begun!"
Other special honors presented during the ceremony included the awarding of the inaugural Faculty Eminence Awards which recognizes faculty who have demonstrated excellence in the categories of Teaching and Service and Research and Scholarship. This year's recipients were Professor Christian Bowers, Assistant Professor of Mathematics and Statistics, Director of the Honors College and Dr. Bryan W. P. Seymour, Professor of Biology and Immunology, Director of Health Disparities, respectively.
View More Photos from Commencement Below:
Relive The Moment: Watch the Commencement on YouTube
About Edward Waters University
Edward Waters University (EWU), accredited by the Southern Association of Colleges and Schools Commission on Colleges (SACSCOC) and a member of the United Negro College Fund (UNCF), is a private, Christian, historically black, urban institution of higher education, which offers a liberal arts education with a strong emphasis on the Christian principles of high moral and spiritual values. EWU was established in 1866 and is an African Methodist Episcopal Church-related institution of higher learning. It is the first private and independent institution of higher education in the State of Florida.