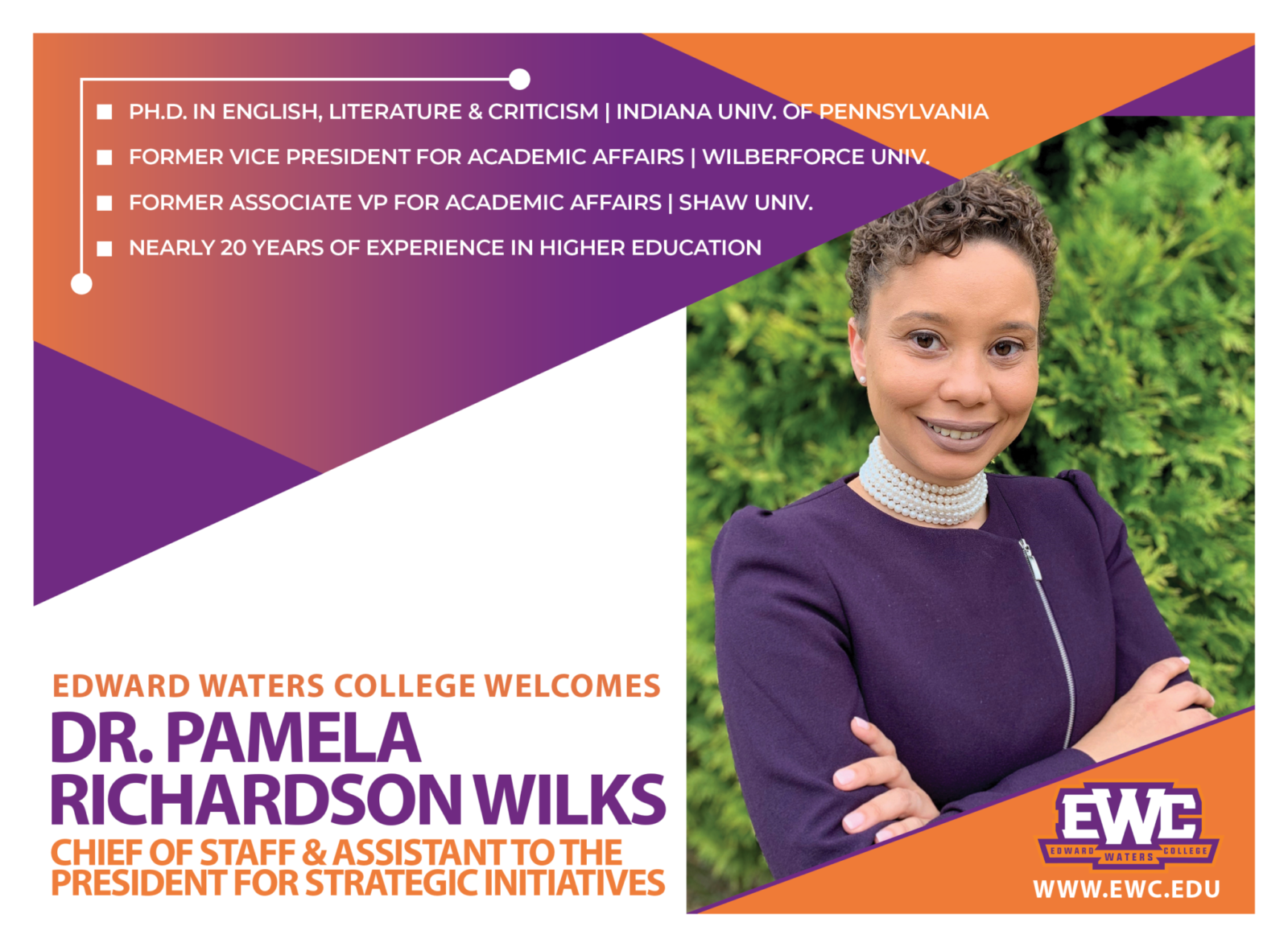 JACKSONVILLE, FL. (July 1, 2019) – Having earned a distinguished reputation as an inimitable academician and higher education leader and administrator, Dr. Pamela Richardson Wilks has accepted an appointment as the new Chief of Staff & Assistant to the President for Strategic Initiatives at Edward Waters College (EWC). Dr. Wilks will begin her tenure, effective July 15, 2019 as a key member of the President's Executive Cabinet and the College's senior administrative staff.
She will maintain primary responsibility for supporting the Office of the President in planning and executing a wide range of complex and sensitive executive and administrative initiatives related to policy/program development and implementation, academic, fiscal, and administrative programming as well as representing the President and monitoring and managing linkages between the President and other senior staff, faculty, staff, students, alumni, and external partners and stakeholders. Additionally, Dr. Wilks will provide executive leadership and strategic administrative support towards the implementation and actualization of the President's vision and strategic initiatives, and overall institutional priorities.
"After an almost year long search I am ecstatic to welcome such a seasoned and demonstrably effective higher education leader of the caliber of Dr. Wilks to our venerable collegiate community here at Edward Waters College," said EWC President & CEO, Dr. A. Zachary Faison, Jr.
As an accomplished administrator and academician with a higher education career spanning nearly 20 years, Dr. Wilks most recently served as Associate Vice President for Academic Affairs at Shaw University (SU) in Raleigh, NC. She formerly held posts as Vice President for Academic Affairs & Strategic Initiatives and Associate Provost for Institutional Effectiveness, Assessment and Student Success at Wilberforce University (WU) in Wilberforce, OH.
"Dr. Wilks's high acumen and expertise in a multiplicity of critical areas at the College particularly related to process optimization and operational management, strategic planning, student achievement, resource development, and faculty instructional experience will serve to principally enhance the development, implementation, and eventual realization of our overall institutional priorities," President Faison said.
Prior to her senior administrative leadership service at WU, Dr. Wilks served as Director of the Sit Lux Scholars Program/Research Initiative and Assistant Professor of English at Johnson C. Smith University in Charlotte, NC. In addition, Dr. Wilks has served as a member of the faculty at Winston Salem State University, North Carolina A&T State University, Livingstone College, and the University of North Carolina at Greensboro (UNCG). Her contributions in grantsmanship as an administrator and faculty member have yielded over $3.5 million to the institutions where she has served through and including the Bill and Melinda Gates Foundation, The HBCU Master's Degree Program Grant, and the Lilly Foundation & UNCF/Career Pathways Initiative (CPI).
"I am truly inspired by President Faison's tremendous and transformational vision for the future of Edward Waters College and am enthusiastic to join in support of his dynamic leadership," said Wilks. "It is equally thrilling to have the opportunity to serve in partnership with the stellar community of administrators, faculty, staff, and alumni of Edward Waters in support of the outstanding students at EWC."
Dr. Wilks holds a Bachelor of Arts (B.A.) degree in English and Master of Arts (M.A.) degree in English and African-American Literature from North Carolina A&T State University. She earned the Doctor of Philosophy (Ph.D.) degree in English, Literature and Criticism from the Indiana University of Pennsylvania. Dr. Wilks is happily married to Christopher R. Wilks, Sr., and they have three sons: Anthony, Christopher, II, and Joshua. She is an active member of Sigma Gamma Rho Sorority, Incorporated.
###
Edward Waters College (EWC), accredited by the Southern Association of Colleges, and Schools (SACS) and member of the United Negro College Fund (UNCF), is a private, historically black, urban college which offers a liberal arts education with a strong emphasis on the Christian principles of high moral and spiritual values. EWC was established in 1866 and is an African Methodist Episcopal Church-related institution of learning. It is the oldest private institution of higher education in the State of Florida.